LINDA WOLF: A QUINTESSENTIAL FEMINIST PHOTOGRAPHER
Our very first exclusive online presentation for Women Rising Radio profiles the distinguished US photographer Linda Wolf.   We begin with an audio program featuring Linda, and we present Linda's new video I AM A FULL WOMAN.   Linda's video offers us a festival of her portraits of women worldwide.  It was inspired by a song from vocal artist and composer Rachel Bagby.
Listen here: [audio:http://www.womenrisingradio.com/audio/LindaWolf.mp3]
This online exhibit, of Linda's visual work and also of Rachel's musical work, takes you on a historical tour from the '60's to the present…. through the lens of a passionate feminist perspective.
I Am a Full Woman from Linda Wolf on Vimeo.
Here is a mini-exhibit of Linda's photographs that relate to the audio
program we've produced about Linda and her work. Enjoy them!
RACHEL BAGBY: COMPOSER OF I AM A FULL WOMAN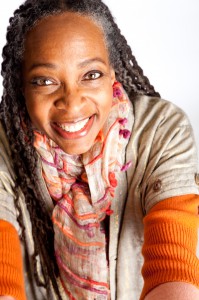 Rachel Bagby, J.D. has a Stanford law degree (focused on Social Change), and is an award-winning social artist who addresses issues in ways that bring forth her audiences' creativity and awareness. Rachel created Dekaaz, a poetry form which audiences use to condense large amounts of information into ten syllables of sharable wisdom. She wrote the book, Divine Daughters: Liberating the Power and Passion of Women's Voices; was a founding member of Bobby McFerrin's ensemble, "Voicestra"; and founded "Singing Farm," where she grows good food, medicine, and music. For over 20 years, she has organized and taught creative meditation, leadership and action programs for emerging leaders and women from many walks of life, sharing the stage with Oprah Winfrey, Marianne Williamson, Sharon Salzberg, Clarissa Pinkola Estes, Nina Simons, Julia Butterfly Hill, Christina Baldwin, Starhawk and other leaders. Founder of Choral Earth, Rachel's commission works and chants help women rise around the world. Learn more at www.rachelbagby.com.