Women Rising Radio Program XX: Women Struggle with War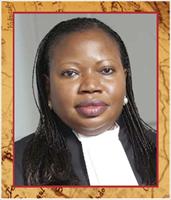 FATOU BENSOUDA: In 2002 the International Criminal Court officially opened its doors, after a decade of painstaking planning and diplomacy. One of its founding mothers is The Gambia's Fatou Bensouda. She has been a Deputy Prosecutor for the ICC since 2004. Born in The Gambia, Fatou always wanted passionately to be a lawyer. She had a burning sense of justice and wanted to be influential in bringing justice, for women and children in particular. She graduated law school and worked to become the Attorney General and Minister of Justice for The Gambia. One of her first rulings as the Justice Minister for The Gambia was to change the sentencing for rape and indecent assault. It had been set at 5 to 7 years in prison, but Fatou increased that up to life imprisonment. Fatou worked as a legal advisor and trial attorney for the International Criminal Tribunal for Rwanda, after the horrific genocide there. Then she worked to bring the ICC into being. The ICC is focusing its energies on bringing to justice those who are committing genocide, war crimes and crimes against humanity.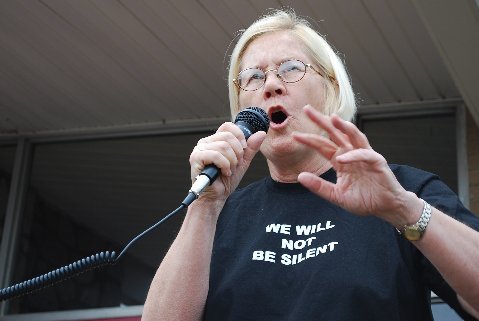 ANN WRIGHT: Retired US Army Colonel Ann Wright came from an Arkansas family, and spent almost 30 years as a career military officer. She also worked in the State Department, under 8 different presidents, and disagreed with many of their policies. But when George W. Bush attacked Iraq she tendered her resignation to then-Secretary of State Colin Powell, and went public with her protest. Using her career in the military as a basis from which to speak, Ann became an outspoken critic of US foreign policy. She's appeared on many television programs, marched and demonstrated and protested all over the world, and collects "arrest bracelets" for all the times she's been arrested doing civil disobedience. Ann Wright is appalled that the US military budget comprises over 50% of the overall US budget. "It is the octopus that has sucked in everything," says Ann.  She is also deeply concerned that the statistics for rape in the military are rising at an alarming rate, that soldier suicide rates are soaring, and that there is a mounting level of violence within the military's own ranks. Recently, Ann Wright joined activists on the Gaza Freedom Flotilla, to make a humanitarian statement about the plight of citizens of Gaza.