Women Rising Program XVII: Climate Change and Water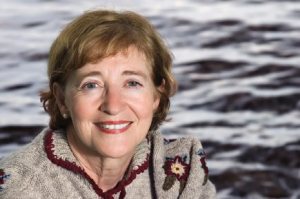 MAUDE BARLOW: Often referred to with awe and fear as the "Ralph Nader of Canada", Maude Barlow is the chair of the Council of Canadians – Canada's most visible and influential pressure group on climate change, ecology and environmental justice, and other vanguard issues. Maude is also well-known worldwide as a force in the struggle for water rights. She co-produced the recent movie, FLOW: For Love of Water – which grapples with the global water crisis. Maude founded the Blue Planet Project, arguing that the global water crisis is driving climate change and global extreme weather. Economic globalization, market driven capitalism, head to head competition, export-driven economics, Maude Barlow cites them all as "killing the Earth…there's going to be no answer to the global water crisis until we address these inequities." In 2005, Maude Barlow won the Right Livelihood award, the alternative Nobel Prize, and with her cash award she financed a system of water taps for an indigenous community in Bolivia. She's a strong feminist, and has stood with other feminist activists worldwide.

GE YUN: Environmental activist Ge Yun was born in the province of Jiang Su near the city of Shanghai. In her young life Ge Yun has seen a change in the land of China that makes her sad – and also motivates her work. She remembers clear and clean rivers and lakes where she lived. While she was growing up, they all became polluted. Ge Yun volunteered as a high school student to work in poor rural areas for Chinese NGO's providing environmental education to younger students. She believes that children can be educated to save the environment. In recognition of Ge Yun's dedication to environmental activism, the Xinjiang Conservation Fund asked her to become its first executive director and only full time staff. The fund was established by a consortium of NGO's interested in protecting the Xinjiang Uygur autonomous region in Northwest China. In just a few years, Ge Yun added 6 other staff members and created a wide-reaching program on water and conservation.