Women Rising Radio Program XIV: Artist Activists

VELINA BROWN: Velina Brown is an actor/singer/writer and sometimes a director with the world famous San Francisco Mime Troupe. For over 50 years the Mime Troupe has wowed and educated audiences who come to see it from all over the world. Its stinging, trenchant political satire and innovative, original productions get to the heart of the world's issues, and manage to deliver a great show as well. They play to about 40,000 people a year. Not bad for an outfit without a building! Velina has been with SFMT for over 15 years. She is also a veteran of the American Conservatory Theatre, where she was in many productions, and also with the Eureka Theatre, Theatreworks and others. She earned a degree from San Francisco State University, Magna Cum Laude, and her Master's degree in Counselling.

SO AN (ANNETTE AUGUSTE): Well known and loved throughout her native Haiti as a powerful singer for social justice, and as a social activist dedicated to the rights of the Haitian people, So An has sung since she was a tiny girl. At age 7, she snuck out of her home to sing in a nearby church… and she's been singing and writing songs ever since. When the US landed in Haiti and forced President Aristide out of office, many activists were also arrested, and So An was one of them. US marines came to So An's home after midnight, killed her dogs, arrested about 15 people, and took So An to jail. Soon, So An had a school going in the prison, teaching all the women how to read and write!! The US was pressured into releasing So An. She says she was happy to have made so many new friends in prison. She has publicly denounced the United Nations presence in Haiti as a disguised US occupation.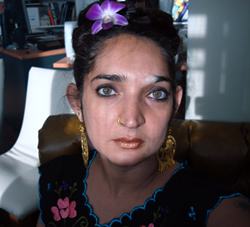 JAISHRI ABICHANDANI: Jaishri Abichandani is a multi-media and visual artist who has presented her works around the world. Paintings, sound pieces, videos and performance works. She was born and raised in and near Bombay, in India, and now splits her time between Bombay and New York. She fell in love with art when she was 8 years old, and views her art as rooted in the spiritual traditions of India. One critic of her show in the United Kingdom wrote: "The more I come to see (it) the more powerful it seems. It is an overtly political show, and a very worthwhile one…" Jaishri pioneered the South Asian Women's Creative Collective as a way to network and collaborate with other South Asian women in the arts. Recently she did a performance piece at MOMA in New York, bowing to each of the casualties in Iraq, on both sides.
RUTENDO MUDZAMIRI: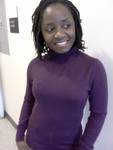 Zimbabwe's Rutendo Mudzamiri is a writer and film maker who worked with Women Film Makers of Zimbabwe focusing on women,youth and arts development. She's also established the Arts Paradise Trust to help other artists in Zimbabwe manage their careers. Born in a crowded suburb of Harare, the capitol city of Zimbabwe, Rutendo first appeared on television when she was 16 years old, hosting a program for children. After working in Zimbabwe for a while, she got in touch with the International Museum of Women in San Francisco, and moved to the US to work on their online exhibit called "Imagining Ourselves". Rutendo became the coordinator for Zimbabwe on that project, then moved on to coordinate the global platform. She writes in the tradition of the African griot.