Women Rising Radio Program VIII Environment Activists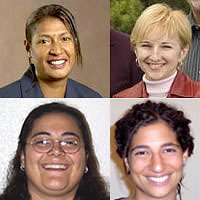 ANNE KAJIR: Papua New Guinea's rainforest is the largest remaining rainforest in the world outside the Amazon. It is and has always been home to Anne Kajir. An indigenous child of the rainforest, Anne actually grew up in two worlds. Her parents worked in an urban area, but they took her back to the rainforest every weekend – to live as the rural, indigenous people do. Anne learned with them how to conserve and care for the rainforest. But globalization and commercial capitalism have brought great destruction to the Papua New Guinea rainforest and the indigenous people living there. So Anne studied law and became a lawyer to advocate for her own people and for the rainforest. She has been able to prevent clear cutting and other destructive assaults on the rainforest, and has become well-known as a successful advocate against commercial logging and other damaging activities in the rainforest. In 2006 Anne received the Goldman Prize for outstanding eco-activism. Her message to the world is clear: The forests give us the oxygen we need to breathe. They have plummeted from 12% of the world's land surface to only 2%… they are our lifeline. We must save them.
OLYA MELEN: At the very young age of 22 years old, Olya Melen took on the Ukrainian government – in her first major case as an environmental lawyer. She and her organization, called Environment, Peoople, Law, or EPL, challenged the Ukrainian government plan to dredge the Danube river delta. And they won. In spite of vicious attacks against Olya in the Ukrainian press and from the government itself, when she got them in court she flattened them, and the Danube delta was saved. The Danube delta is a vast expanse of one million acres of wetlands, containing the largest reedbeds in the world. Thedelta is a UNESCO world heritage site and biosphere reserve. Yet the Ukrainian government had planned to dredge it, decimate it, and build a shipping canal to steal Romania's shipping business. They called that "development". Olya received the Goldman Prize for outstanding eco-activism in 2006. She stated that she hoped the prize would bring more international support for her efforts to stop the Ukrainian government's assaults on the Danube delta – but permanently.
DANA RASSAS: Dana Rassaas grew up in Palestine and Jordan, with her parents continually reminding her not to drink the tap water in her home. It wasn't fit for human consumption. This made a big impression on her. A Palestinian Muslim, Dana completed a degree in political science and computer languages, and was searching for a way to help Jordan conserve its water supply. She decided to work in trans-boundary water issues and environmental policy. She attended the Arava Institute for Environmental Studies in Kibbutz Keturah in Israel, to join with Israelis and Palestinians and Jordanians and Egyptians in trying to bring environmental sanity to the Middle East. By her own account, Arava Institute changed her life and her outlook. Dana confronted all the issues of conflict in the Middle East, alongwith her Israeli counterparts and others from the region. It was difficult, but she thinks it's possible to bring peace and ecology to the Middle East – even with its crucial water issues.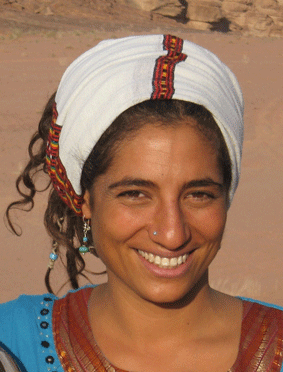 ILANA MEALLAM: Ilana Meallam grew up in Israel and the UK, and says that in her entire youth she never had the opportunity just to sit and talk with a Palestinian person. That's a significant and sad reality in the Middle East, and Ilana was determined to change it. So she enrolled in the Arava Institute – the same place that Dana Rassas found – and they were together with other activists struggling to get along with one another, find solutions to difficult ecological problems in the Middle East, and implement those solutions. Ilana decided to work with the Bedouin people in the Negev desert to try some of the solutions she'd studied at Arava Institute. She worked with the Bedouin on small-scale bio-technology to use waste to produce heating, light and refrigeration. And she has travelled with DanaRassas to inform the world of the work done at the Arava Institute.