Women Rising Radio V: Grassroots Organizers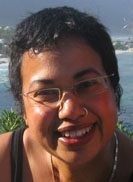 SHEREEN ESSOF: Shereen Essof is a grassroots advocate for women's rights from Zimbabwe, living and working in South Africa. She was born into an activist family that helped foment the Chimurenga, the struggle that transformed colonial Rhodesia into an independent Zimbabwe. Shereen grew up with politics…with the liberation songs and dances. She talks about this in her Women Rising Radio profile, and you can click to listen.. From 1994 to 2000 Shereen worked with the Zimbabwean Women's Resource Center Network, focusing on women's rights within Zimbabwe. A lot of the work she was doing was about women's land rights. Women in Zimbabwe have not been allowed to own land … Yes, you read that correctly. Women have been continually marginalized in Zimbabwe through what Shereen calls a collusion between custom, law and patriarchy. Shereen's work also promoted education, help with HIV-AIDS, micro-credit, and economic empowerment for women. Forced to leave Zimbabwe when the Mugabe regime targeted activists like herself, Shereen settled in South Africa where she worked at the African Gender Institute at the University of Cape Town. In her Women Rising Radio profile, Shereen reads a story she wrote, titled "Searching for Jessica"..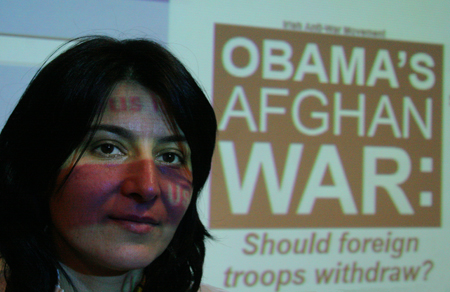 SAHAR SABA: As a young Afghan girl, Sahar Saba had to go underground to get an education. She was not allowed to go to school in the Taliban-ruled country of Afghanistan. Women and girls were barred from being educated. Sahar joined a network of secret schools for girls, called the Revolutionary Afghan Women's Association, better known worldwide as RAWA. Later, she committed herself to doing RAWA's work, and now travels globally to speak on behalf of Afghan women's freedom and on behalf of RAWA. In her Women Rising Radio profile, Sahar talks about the revered founder of RAWA, known only as Mina, who risked her life and everything and everyone she loved – to make RAWA strong. Mina was assassinated, but RAWA, her prodigious child, continues to thrive, keeping its network of schools, building hospitals, and publishing a feminist magazine. It continues to organize thousands of Afghan women to participate in very visible annual pro-democracy demonstrations. Sahar has received a law degree from London University, and has written on issues facing Afghan women.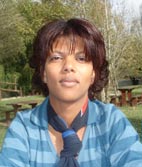 WENDY PEKEUR: Wendy Pekeur is a grassroots activist and organizer for the South African trade union Sikhula Sonke, created by the Women On Farms project. Wendy grew up working on a South African farm owned by whites, and she knows first hand what that was like. There was no legislation protecting the workers. The owners could set all the policies and rules, and the weekly wages for the vary hard work that her family did were $35. For an entire week of work. There was no access to gloves when working with poisonous pesticides, and deaths and illness from the pesticides were common. Wendy left the farm to work in a factory, but she faced the same problems, and sexual harassment in addition. Do in 2003 she helped to establish Sikhula Sonke, a trade union to champion the employee rights of female, seasonal and disabled workers as well as to address issues such as housing, health benefits, worker safety and land reofrm. In 2007 Wendy Pekeur became the youngest female general secretary of a trade union in South Africa's history. She was 31 years old. Wendy likes to think of herself as a "people person"…and that's what it takes to be an organizer.