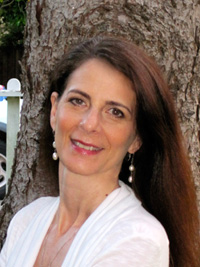 OSPREY ORIELLE LAKE
Osprey is the Co-Founder and Executive Director of the Women's Earth and Climate Action Network (WECAN).  She works nationally and internationally with grassroots and business leaders, policy-makers and scientists to promote resilient communities, foster a post-carbon energy future, while also addressing societal transformation.  She also co-chairs International Advocacy for the Global Alliance for the Rights of Nature, spearheaded the Women's Earth and Climate Summit, and produced the Women's Assembly challenging California governor Jerry Brown's Global Climate Action Summit in 2018.  This program features speakers at that Women's Assembly.  She teaches WECAN's international climate trainings and directs WECAN's advocacy work in areas such as Women for Forests program, Rights of Nature and UN Forums. Osprey is the author of the award-winning book, Uprisings for the Earth: Reconnecting Culture with Nature.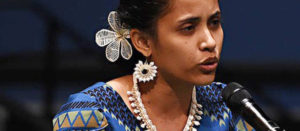 KATHY JENTNIL KIJINER
Kathy is the daughter of Hilde Heine, president of the Marshall Islands. Kathy is a Marshall Islander poet and spoken word artist.  She received international acclaim when she performed her poetry at the opening of the United Nations Climate Summit in New York in 2014.  Her writing and performances have been featured by CNN, Democracy Now, Mother Jones, the Huffington Post, NBC News, National Geographic, Nobel Women's Initiative, and more.  Her first collection of poetry has been published, Iep Jaltok:  Poems from a Marshallese Daughter.  She also co-founded the youth environmentalist non-profit Jo-Jikum, empowering Marshallese youth to seek solutions to climate change and other envrionmental impacts threatening their home island.  Kathy is one of Vogue magazine's 13 Climate Warriors from 2015.  She received her Master's degree in Pacific Island Studies from the University of Hawaii at Manoa.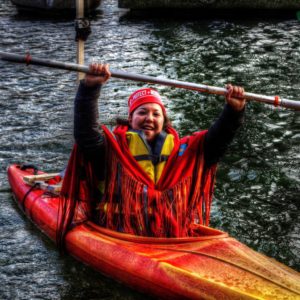 KANDI MOSSETT WHITE
An Arikara Mandan ecology and human rights activist from North Dakota in the USA, Kandi has worked with the Indigenous Environmental Network for decades.  She was a key activist in the Standing Rock confrontation with Big Oil in 2017.  She is a tireless fighter for justice for indigenous people worldwide, and one of the original signers of the Indigenous Women of the Americas Treaty Defending Mother Earth.  Kandi believes it is crucial to keep on fighting in the face of powerful odds and unprincipled giants like Big Oil.  She believes protest is not only a human right but a responsibility, especially for indigenous peoples who are on the front lines of ecological exploitation and destruction, and on the front lines of climate chaos.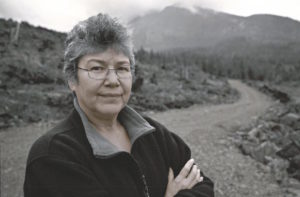 WANDA CULP
Wanda "Kashudoha" Loescher Culp, born and raised in Juneau, lives in Hoonah, Alaska, Tlingit artist, activist, advocate, and hunter, fisher and gatherer of wild foods. Mother of three Children, and one grandson, an artist whose drawings, designs & limited edition prints are seen throughout Alaska. Wanda is recognized as a story teller, a cultural interpreter, a playwright, and co-producer of the movie Walking in Two Worlds.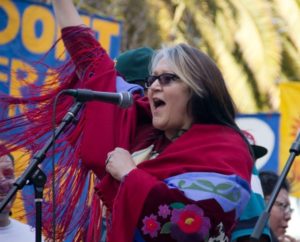 PENNIE OPAL PLANT
One of the co-founders of the San Francisco Bay Area chapter of Idle No More, Pennie has worked for over 35 years to ensure that the sacred system of life continues in a manner that is safe, sustainable and healthy for humans and all their relations on Earth.  A Yaqui Choctaw Cherokee indigenous woman with European ancestry as well, Pennie is also a signatory on the historic Indigenous Women of the Americas Defending Mother Earth Treaty, and a co-founder of Movement Rights.  She is on the front lines of the struggle against the highly polluting Chevron oil refinery in her community of Richmond California.