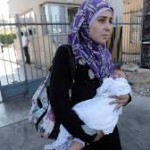 About 25 years ago, around age fifteen, three Syrian women would experience early marriage around the same time.  Maha got married in a small village in Dara'a Governorate.  Karima got married in a poor neighborhood in Homs city.  Nada got married in rural Rif  Dimashq Governorate. Early marriage is a common tradition in rural and poor areas in Syria.  Maha's, Karima's, and Nada's marital destinies echo the destinies of many similar women from their birth areas.
These three areas turned out to be the main areas from which Syrian refugees would flee to Jordan. Around two years ago, these three women would experience different long journeys of internal displacements that ended with them all becoming refugees in Jordan's Za'atri Camp.
Their fight to survive war, poverty, and loss of loved ones would include different strategies:  They would sell UN food (aid) at low prices in the Za'atri Camp market, in order to buy goods that they needed and to exchange non-edible items for edible items; or they sought the help of activist groups in order to leave Za'atri Camp and begin a new life in Amman or other Jordanian cities.
Regardless of the fact that all of these women underwent severe economic and security hardship, none of their survival strategies included selling their daughters off for money as a solution to their hardship. Maha prefers to have a job cleaning Za'atri Camp's public restrooms than marrying off any of her three girls. Karima bore the tragedy of losing her "civilian" eldest son and husband at the hands of the Syrian Army and sought the help of an activist group to depart Za'atri Camp and move to Amman where she can again send her 15- year-old daughter to high school. After her husband's enforced disappearance, Nada bravely sought refuge in Jordan as a single mother and experienced different types of gender-based violence, but she did not weaken when it came to protecting her two daughters from any abuses based on her own circumstances.
In current global and social media, similar stories are largely invisible. Instead the dominant media representations of Syrian refugee families claim that such families marry their daughters off for money.
I do not claim that forced marriages for money don't happen among Syrian refugees in Jordan; certainly, it is one of the problems that some Syrian girls and women experience/suffer. Instead, in this article, I share my research experience last summer in Jordan. In particular, I share my inquiry to question the media representations of forced marriage for money among Syrian refugees, and to shed light on the ways in which Syrian refugee women's experiences are obscured and marginalized by different types of dominant media representations.
 In March 2011, Syrian men and women participated in a social movement known as the "Syrian Uprising" – asking for social and political justice. For several months, the movement was peaceful, regardless of the political oppression and violence that targeted both the activists who coordinated the demonstrations and the people who participated in or supported the uprising.  In the summer of 2012, the uprising was hijacked by multiple local and international powers that engaged in a geopolitical struggle for Syria.
Thus, what had started as a peaceful movement turned into an armed conflict, which is the so-called "Syrian civil war." At that time, most of the peaceful activists were either imprisoned by the regime forces or had escaped the country. The refugee crisis gained international visibility.
I followed Syrian news through both global and social media, especially Facebook, with a focus on how women were represented in the stories that covered the Syrian conflict. I noticed that women were generally described as powerless victims, with many portrayed as being sold through forms of forced marriage by their own Syrian men to other Arab men. This dominant representation was not limited to English mainstream media, but it also spread through Arabic social media. The attention that such negative representations received made me want to investigate the reality of the situation.
I was particularly interested in "Refugees not Captives",  a social media campaign launched by a young Syrian group. This campaign focused on how some Syrians marry their daughters off for money, and this group claimed that this situation is the main challenge for Syrian refugee women.
In the summer of 2013, I was in Jordan to  investigate the main challenges for Syrian refugee women in comparison with global and social media representations. I spent about six weeks in Jordan during the summer of 2013. There I conducted more than 30 interviews with two groups: Syrian refugee women and activists. In my research, I aim to analyze intersectional relations of gender, class, race, nationality, and age, and to understand the power relations that rule Syrian refugee women's and activists' lives.
In reality, contrary to the social and global media representations, the people whom I interviewed confirmed that forced marriage for the purpose of money happens minimally – and is not the main concern of the majority of the Syrian refugee women.
Syrian refugee women, especially those who lost their men in the conflict like Maha, Karima, and Nada, suffer from additional complex problems such as structural violence, that they faced in both Syria and Jordan.
The activists I interviewed reported that their work in humanitarian activism is negatively affected by  media representations blaming Syrian families for selling their women to Arab men.  They pointed out that as a result, donors lose empathy and stop sending aid to support Syrian refugees.
Hadia (56 years old) is an example of a women's rights activist who tried to speak out against similar representations and call for diversity of refugee women's stories. Hadia, who serves as an Executive Director of a renowned local feminist organization in Jordan that operates several shelters for refugee women, was interviewed for the British Channel 4 News documentary "Rape and sham marriages: the fears of Syria's women refugees."   She explained her experience with the documentary producers:  "They said they want to investigate the challenges that face Syrian refugee women in Jordan, but in fact all their questions were about early and forced marriages and prostitution. They went to the Za'atri camp and filmed there. Then they came again to interview me for the second time. I talked for more than one hour about what I believe are the main challenges of Syrian refugees in Jordan. However, when they broadcast the film my perspective and interview was excluded."  Says Hadia,  "…they reduced the documentary time from one hour to just 10 minutes in order to serve their purpose to focus on forced marriage for money. But even in those 10 minutes, they did not succeed in their goals because most people they interviewed expressed their refusal of forced marriage for money. 
"…I'm against any report or interview that did not serve the refugees. I wish that the British Channel 4 team had produced their documentary in a way that put pressures on the British government and the international community to send more aid!  Or in a way that demonstrated the suffering of Syrian refugees from extreme cold in the winter,"  Hadia concluded.
Similar to global media representations that were described by Hadia, the second type of representations that obscure and marginalize Syrian refugee women's experiences is Syrian mainstream feminist social media. For example, "Refugees not Captives" is the main online Syrian social media campaign that addresses refugee women's issues. However, this online campaign minimized Syrian refugee women's issues, mainly focusing on forced marriage for money.  They echo the mainstream,  and influence global media representations.
I found consistently  that global media uses stereotypical representations in reporting about Syrian refugee women's issues, but also that Syrian feminist online activism mirrors the same representations. Both global and social media marginalized stories of underprivileged women such as Maha, Karima, and Nada, and activists like Hadia who did not fit the stereotypes of Arab and Muslim women.
Making real stories visible is absolutely crucial to documenting women's suffering and struggle in the Syrian conflict and then supporting their appropriate representations and pivotal roles in the peacebuilding process, in a way that reflects their complex and varied experiences and roles.
 Katty Alhayek is a scholar activist from Syria. Her research interests broadly center around themes of gender, conflict, activism, and marginalization. She earned an undergraduate degree in Media Studies from Damascus University in 2008. Ms. Alhayek is a Master candidate in Communication and Development and Women's and Gender's Studies at Ohio University. Currently, she is an intern with the United Nations Women in New York City and a fellow with the Open Society Foundation in the Middle East Rule of Law program.