Women Rising Radio launches its 23rd program September 2013 on Making Contact, nationwide and abroad. We are proud and delighted to be featuring the women of LA VIA CAMPESINA, the worldwide peasant movement taking on all the major issues in farming economics, social justice and women's rights.  We are presenting ESSAYS by women working, struggling and dealing with issues highlighted in this latest Women Rising Radio program: GMO's (genetically modified food organisms), the stealing and cacheing of seeds by agribusiness corporations worldwide; the Transpacific Partnership Agreement, seen as NAFTA on steroids; and other issues facing women farmers, fisherwomen, small businesswomen, indigenous women and women raising families worldwide.
Listen to Women Rising Radio Program XXIII here.
______________________________________________________________
THE PO' PEOPLES' PLATE by Tiny (aka Lisa Gray-Garcia)
publisher of POOR MAGAZINE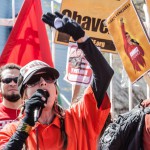 The Poor Peoples Plate is rooted in capitalist hate for the three job working mamaz caught in the welfare state.
"Here is your WIC voucher, these are the "approved" dairy products, cereal and dry goods you can buy."
When my son was born and my mama got diagnosed with a fatal heart condition, I was thrown into another bout of severe poverty and houselessness, which meant I qualified for a program used by all poor and working poor parents known as WIC. I was hungry and my son and very ill mama was hungry too, so when they showed me the array of what I now know were non-organic, hormone and antibiotic-filled-milk and GMO-infused pasta and other dried food options, I felt blessed and eagerly signed up.
Read More
______________________________________________________________
Trash the TPP: Why It's Time to Revolt Against the Worst "Trade Agreement" in History by Margaret Flowers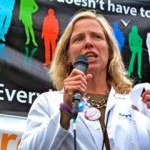 Odds are that you have not have heard of the Trans-Pacific Partnership. While the TPP has been under negotiation since 2008, talks have largely been done in secret and not covered by the mass media.
The media black-out is quite impressive since this is the largest corporate trade agreement to be negotiated since the World Trade Organization got underway in 1995. Commonly called a global corporate coup, the TPP makes transnational corporations more powerful than governments. Others call it "NAFTA on steroids" because it will multiply the failures of NAFTA.
Read More
______________________________________________________________
The Un-American Way: On the Anti-Democratic 'Trans-Pacific Partnership'
Why the TPP deal threatens food safety and public health
by Wenonah Hauter

The United States is negotiating a NAFTA-style trade deal that should be alarming to American consumers. The main reason it's not getting much attention is that the mainstream media is largely ignoring it.
This pact deserves more news coverage. It threatens to undermine our own laws and increase the opportunity for corporate takeovers of public resources in the United States and abroad. The worst part? These negotiations are taking place behind closed doors.
Read More
______________________________________________________________