Women Rising Radio is honored to present four trenchant essays from Indian women writers, included in the forthcoming publication, Across the Crossfire: Women in Conflict Zones. authored through the Women's Feature Service and edited by Pamela Philipose and Aditi Bishnoi. The new book, curated by India's foremost feminist publisher Ritu Menon and published by Women Unlimited, will be released in December 2012.
Ritu Menon's publishing company Kali for Women has been at the forefront of the Indian women's movement, bringing the voices and views of India's women to a worldwide readership.  Ritu is profiled in our Women Rising Radio program #3.   Listen to Ritu's story of how her illiterate grandmother insisted she become a journalist!

__________________________________________________________
A Sri Lankan Tamil Refugee Builds New Worlds By Papri Sri Raman
Chennai (Tamil Nadu): V. Thenmozhi, in her late thirties, would have liked to have a life of her own – set up a home, build a career, become a mother perhaps. Yet, all her plans have been on hold for some time. "It is true that every one wants to settle down, but for the moment my life revolves around the refugees from my country," she told us in 2009.
Thenmozhi wasn't exaggerating when she said that her life was dedicated to Sri Lankan Tamil refugees. This activist and counsellor has spent nearly two decades working with those who fled in thousands across the Palk Strait to the Indian mainland, after the Sinhalese-Tamil ethnic conflict broke out in the island nation in the early Eighties.
Read More
__________________________________________________________
 Scars Of War: Kargil's Blowback In Kangra   By Nirupama Dutt
Kangra (Himachal Pradesh): Over a decade after the war that claimed their young sons and husbands had ended, a sense of loss was still very much a part of the lives of mothers and wives in the Kangra district of Himachal Pradesh (HP). This is a region from where many young men have traditionally served in the army – a tradition that dates back to pre-Mughal times. The two-month war, which broke out after Pakistani soldiers and militants infiltrated the Indian side of the Line of Control, started in late May 1999 in the Kargil district of Jammu & Kashmir.
The impact of the war can be felt to this day in the tea garden town of Palampur in HP. Two promising officers, Lieutenant Saurabh Kalia and Captain Vikram Batra came from this town and their close relatives continue to grieve for them.
Read More
__________________________________________________________
Farming amidst Landmines: Amputated Lives in Fazilka  By Tripti Nath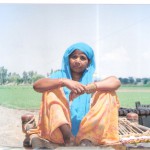 Fazilka (Punjab): The rural folk of Fazilka, a sub-division in Punjab, have often had to pay a heavy price for living in perilous proximity to the Indo-Pak border. Many have lost their lives to the innumerable landmines laid by the Indian Army during Operation Parakram along the international border in Jammu and Kashmir, Rajasthan and Punjab, following the terrorist attack on the Indian Parliament in December 2001. The mines are said to have been laid at a density of 1,000 per square kilometre.
The stories of villagers 'lucky' enough to have survived these landmines are heart-rending. Take Raj Kaur, 55, an inhabitant of village Bhamba Wattu, which lies just six kilometres from the Pakistan border. Nine years ago she had inadvertently stepped on a landmine while trudging along a narrow mud track leading to her village. By the time she could fathom what had gone wrong, she had stepped on to another landmine. Ever since that day, Raj has led an agonising existence: She has lost both her legs below the knees. The woman who had once earned a living as an agricultural worker has been forced to sit all day on her string cot guarding her lifelines – her prosthetic aids and walker.
 Read More
__________________________________________________________
 Life In Salabila: No Relief From Relief Camps   By Ratna Bharali Talukdar
Bongaigaon (Assam): The thatched shack with bamboo walls, measuring 10 feet by 10 feet, located in the Salabila Relief Camp in Assam's Bongaigaon district, was depressingly quiet. Poverty, hunger and fatigue seemed to have blocked out the sounds that signify a happy home.
Marjina Khatun, 25, who lived there, looked exhausted. She had just returned home after a 14-hour shift at a construction site that casts slabs and her youngest child, Manowar, aged 11 months, lay asleep on a mat on the floor, emaciated and naked.
Read More
__________________________________________________________