Farming amidst Landmines: Amputated Lives in Fazilka  By Tripti Nath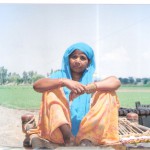 Fazilka (Punjab): The rural folk of Fazilka, a sub-division in Punjab, have often had to pay a heavy price for living in perilous proximity to the Indo-Pak border. Many have lost their lives to the innumerable landmines laid by the Indian Army during Operation Parakram along the international border in Jammu and Kashmir, Rajasthan and Punjab, following the terrorist attack on the Indian Parliament in December 2001. The mines are said to have been laid at a density of 1,000 per square kilometre.
The stories of villagers 'lucky' enough to have survived these landmines are heart-rending. Take Raj Kaur, 55, an inhabitant of village Bhamba Wattu, which lies just six kilometres from the Pakistan border. Nine years ago she had inadvertently stepped on a landmine while trudging along a narrow mud track leading to her village. By the time she could fathom what had gone wrong, she had stepped on to another landmine. Ever since that day, Raj has led an agonising existence: She has lost both her legs below the knees. The woman who had once earned a living as an agricultural worker has been forced to sit all day on her string cot guarding her lifelines – her prosthetic aids and walker.
Every detail of that tragic day that changed her life has been etched in her mind. She remembers how her husband, Balbir Singh, rushed her to the civil hospital in Jalalabad, 33 kilometers away. The authorities there administered first aid and referred the couple to the army hospital at the district headquarters of Ferozepur, some 85 kilometres away. There she received prosthetic aids that served her for some time. Only in February 2008 had she succeeded in getting proper prosthetic devices at a camp supported by civil society organisations.
While the family received financial assistance from the government, it was not adequate. The compensation that Balbir Singh managed to secure after running from pillar to post was just Rs 150,000 (approximately $200,714). Using the interest-free loan of Rs 10,000 granted by the Delhi-based Rajiv Gandhi Foundation, the couple was able to help their younger son, Jaswant, open a barber's shop. Raj bemoaned her fate, "We have no land. I was earning almost Rs 4,000 a month as an agricultural worker but the accident has left me incapacitated."
Another landless labourer, Surjeet Kaur of village Behak Khas, located around eight kilometres from the border, has been coping with disability for over a decade. "I had gone to fetch fodder for the livestock when my right foot slipped and I stepped on a landmine. All that is left of the foot is the heel," she said.
Incidentally, before the fateful landmine accident Surjeet was already disabled. One of the toes of her left foot had been amputated when she was six as a result of a snake bite. "I had learnt to manage with an amputated toe but it is difficult to manage without one half of the foot. The army helped me get a prosthetic aid from Chandigarh (capital of the states of Punjab and Haryana) but over time it has lost its utility," she said. In these times of rising costs, keeping the family going has been a challenge for Surjeet, who has three daughters and a son. The government compensation of Rs 150,000 that came her way was spent on a daughter's marriage.
Struggling to make ends meet, Surjeet's husband, Harbans Singh, moves from village to village in search of work as a daily agricultural wage labourer. Surjeet, too, despite her disability, goes in search of wage work to Kheo Wali Dhab – 15 kilometres from her home – leaving her children in the care of her mother-in-law.
Why didn't Surjeet take the time out to get a proper prosthetic? "The choice was between two square meals a day or a prosthetic. Before the landmine accident, I was working as an agricultural labourer, and that is all I can do," answered the victim, matter-of-factly, as she revealed that even travelling to the prosthetic centre in Chandigarh was an expensive proposition for her.
A mere two kilometres from the Pakistan border, in Jhangal Baini village, Mitoo Bai, 35, lives with her pre-teen children. Mitoo was in her 20s, when she lost her right foot after stepping on a landmine over a decade ago. She was in the fields gathering fodder for the family cattle at that point. Since the incident, she has been hopping around the house with the help of a staff. While she has had prosthetic boots made twice over since then, she felt they were not very useful, "Now I wear canvas shoes and walk with great difficulty. When my foot hurts a lot, I take pain-killers," she said.
Like the other women, Mitoo has been struggling to make ends meet. "We got Rs 150,000 from the Centre but that is not enough compensation for a disability that is life long. Should the state government not be sensitive to our condition?" she asked.
A source in the army pointed out that the Ministry of Defence gives ex gratia compensation to all civilian victims of landmines, "The policy has been in place since January 2003. The army gives Rs 250,000 to next of kin in cases of casualty, Rs 200,000 in cases of 100 per cent disability, Rs 150,000 in cases of disability assessed between 50 to 100 per cent, and Rs 100,000 in cases where disability is below 50 per cent." But the officer admitted that the paper work involved was very exhaustive.
Of course, the army disagreed with the victims' grievance that it hasn't cared to follow up on prosthesis. Explained another officer, "No patient came back to us. If they approach us, follow-up action will be taken. If we had gone all the way to get prosthesis fitted, nothing really holds us back from organising a follow-up. At that time funds for the expense incurred on transportation, accommodation, diet, treatment, including the cost of prosthesis, was provided by the Service concerned. Artificial limb centres in Chandigarh, Bhavnagar, Jaipur and Ludhiana, were also supported by the army for the provision of prosthesis."
The army also rejected the criticism that the warning markers on several acres of land along the India-Pakistan border were either missing or not legible. One officer put it this way, "During Operation Parakram, the army had laid landmines, which were in consonance with well-practised, relevant and standard operating procedures, including physical verification of the mines, and a meticulous drill during laying out these mines. Special emphasis had been laid on the recording and marking of each minefield to prevent civilian casualties."
Sources also claimed that the army had made all efforts to ensure the safety of civilians. Caution notices were put up in all border villages by the state and district administrations and the local police was informed about the presence of the minefields. Besides, there was also prominent perimeter fencing with barbed wires and conspicuous marking and warning signs, in both English and the local language, at close intervals, to indicate the presence of minefields and alert civilians.
According to the army, almost the entire area was, in any case, de-mined after Operation Parakram. Yet, while sources did concede that there could be the drifting of mines due to the melting of the snows or sub-soil erosion, they hastened to add that whenever such developments are brought to its notice, the army takes prompt action, apart from preemptive steps like conducting regular monitoring exercises.
The residents of the vulnerable villages, however, have continued to live in fear of the hidden dangers that lurk in their fields and pathways. Many among them have already been struggling for years with the consequences of having stepped on a stray landmine that has either led to death or a family member becoming permanently disabled.
This is a region known for the high value of its fertile agricultural land, but for some that very land turned out to be the source of a lifetime of pain and suffering.