Now for a really exciting way to support the Women Rising Radio interactive website,  and at the same time provide an instructional gift to your favorite educational institution!   Here's how: You can buy as many cd boxed sets of the Women Rising Radio programming, 27 half-hour shows, as you want, and then donate them to your favorite school, library, women's studies department, girls' group.. become a:
DISTRIBUTOR!        
10 sets — $1200
CO-PRODUCER!  
5  sets — $700
SUPPORTER!          
2 sets —  $300
FAN!     
1 set –      $200
TROUPER!              
1 program cd   $15
Send us a note and your check made out to Crown Sephira Productions.     And check in with us if you need to:  dvashah@gmail.com
Women Rising Radio
Crown Sephira Productions
P.O. Box 2068
Mill Valley, California 94942 USA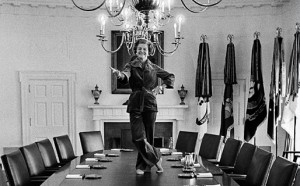 And remember, trouble-making women rock everywhere!  Check out US First Lady Betty Ford, a family planning and abortion advocate, in the 1970's, in a Republican administration!   She really knew how to dance!